19 Mar 2019
Winners of the International Aerial Firefighting Awards Have Been Announced at AFF Europe 2019 in Nîmes.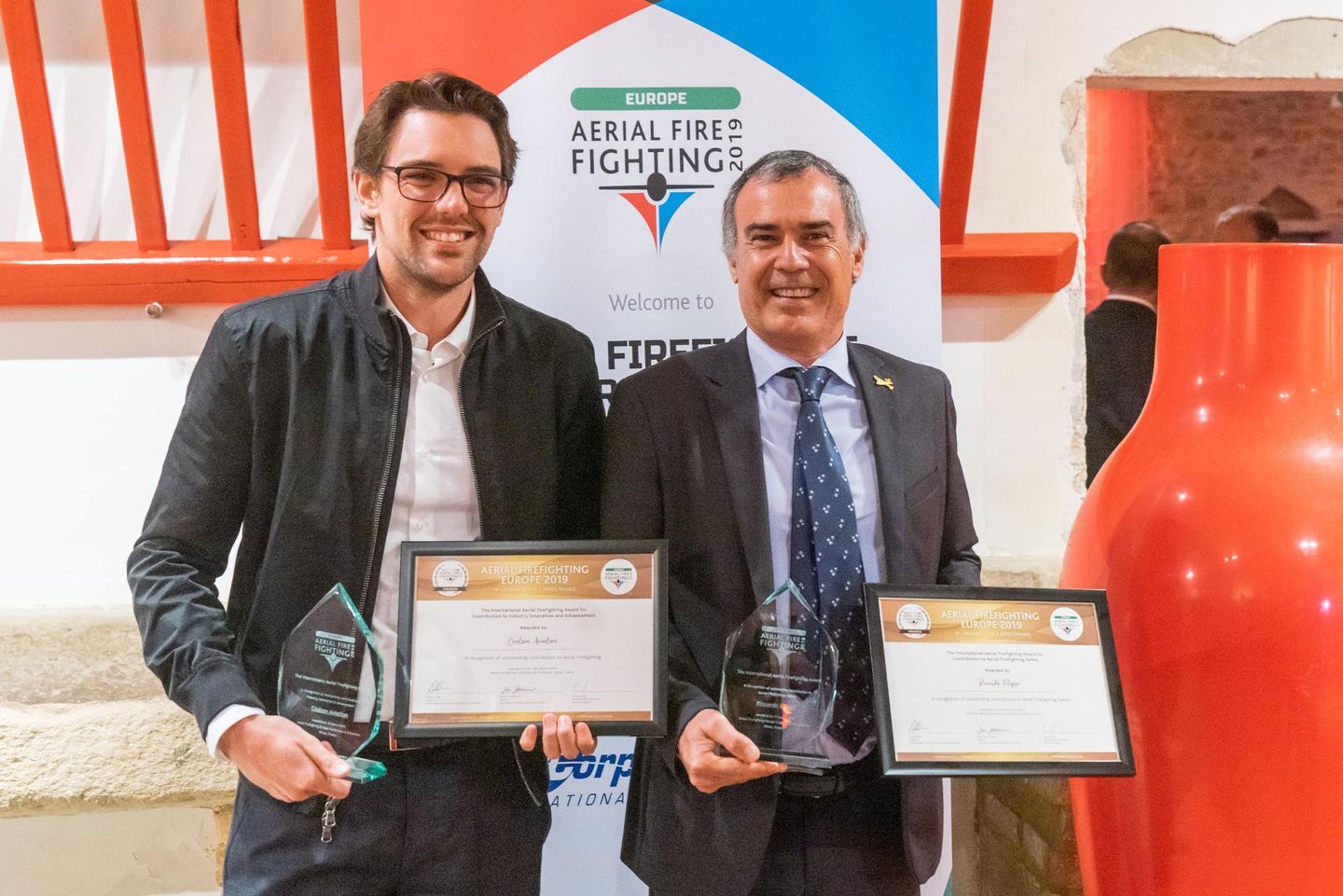 The Aerial Firefighting Awards 2019 ceremony culminated the first day of AFF Europe, taking place on 19th March during the conference dinner.
These Awards are presented annually to recognise a significant contribution by an individual or organisation to aerial firefighting. Aiming to honour diligence, dedication and conscientiousness in aerial firefighting, the Award was inaugurated in honour of the late Walt Darran, who was a pioneer and advocate for advances in aerial firefighting. Being a highly experienced S2-T airtanker pilot and former highly decorated US Navy aviator from California, USA, Walt was a constant and passionate advocate for safety and improvement in the international aerial firefighting community.
For the first time the Award for Aerial Firefighting Innovation and Advancement was presented jointly to Kestrel Aviation of Australia, Coulson Aviation of Canada and Mr Wayne Rigg from Emergency Management Victoria in Australia, for their ground breaking, collaborative work in developing safe and effective practices for aerial firefighting at night using helicopters equipped with Night Vision Goggles.
It is especially fitting to make this award jointly, as it recognises the fact it was a collaborative project where the organisations worked together to improve aerial firefighting and to deliver new capabilities.
Over the past two years, Coulson and Kestrel have worked with Project Manager Wayne Rigg through a series of carefully designed trials to develop the training, procedures and protocols necessary to deliver an effective capability for the suppression of wildfires at night. As a result, night firebombing operations using Night Vision Goggle equipped helicopters have now been successfully applied at many wildfires.
Wayne Rigg and representatives of Coulson and Kestrel will be the first to tell us that helicopters have previously been used for fighting fires at night, and that a great many other people and organisations were involved in developing this night firebombing capability. However, the collaborative "crawl, walk run" approach taken in this case has been essential to develop safe systems of work and to integrate an effective night firebombing capability into existing fire suppression operations. This approach has resulted in some 'first-in-the-world' achievements such as hover-filling from open water sources at night, greatly improving productivity of aerial firefighting operations. The work of this night aerial firefighting project, which builds on the experience previously gained by organisations such as the Los Angeles County Fire Department, will significantly advance the use of aircraft for effectively fighting fires at night.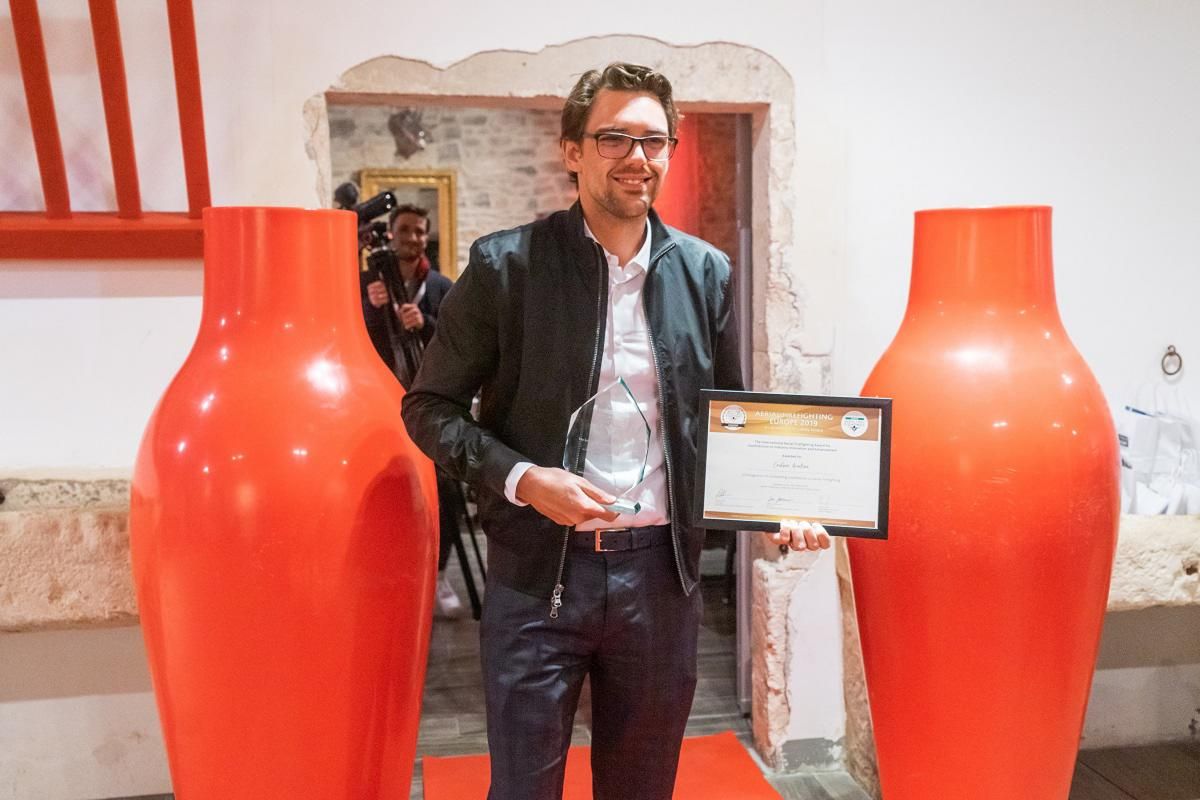 But it is the collaborative approach, where different organisations worked together to improve aerial firefighting, that is very significant about this project. This provides a great pattern for future development projects. Mr Foster Coulson of Coulson Aviation received the Award for the three joint winners.
The Award in the Aerial Firefighting Safety category was presented to Riccardo Filippi for demonstrating his incredible ability to work and fly safely in international missions
Riccardo is a CL-415 captain at Babcock Mission Critical Services of Italy, operator for the Government-owned firefighting fleet, and for the last 15 years he has been extensively flying over wildfires, giving his contribution both nationwide and abroad, where different operational standards and procedures - together with higher risk of miscommunication - represent critical points in safety.
Even from his early days in professional aviation as a young sailplane instructor, Riccardo has always had a strong focus on safety, when from the back seat he used to keep telling his students how check-lists are paramount - in his unmistakable, colourful style.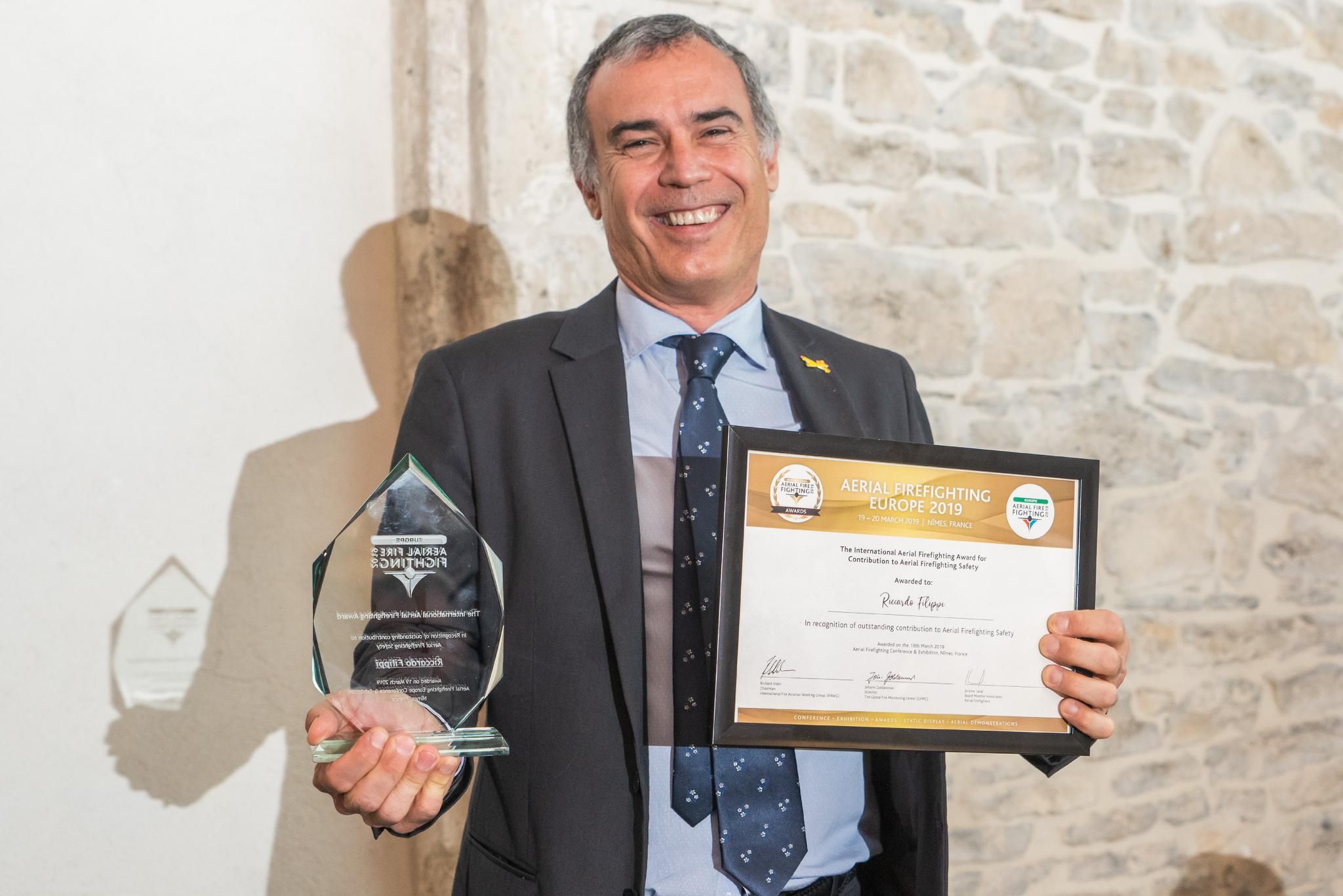 He has his personal interpretation of the aerial firefighting dilemma: How to put safety first, while keeping the mission effectiveness at the highest possible level. Riccardo lost several colleagues in flight accidents - he himself had a close encounter with a power line in 2017. But beyond the mourning, each loss has made his determination stronger, and not only to understand the causes of an accident. He has also increased his editorial efforts as he thinks safety can be improved by informing the specialized audience with articles in which he bonds his expert view with general information.
In a holistic air-to-ground approach, Riccardo often stresses the fact that safety doesn't only regard cockpits. He also focuses on the co-ordination between aircraft and ground crews, not only in order to maximize synergies - but also to avoid personnel and civilians on the ground being hit by the aerial drops.
We take this opportunity to congratulate this year's winners! Next Aerial Firefighting Awards ceremony will take place at AFF North America 2020 with nominations being open closer to the event.

The conference dinner, sponsored by DynCorp International LLC and Nîmes Metropole, took place on the first day of Aerial Firefighting Europe 2019 at Mas Merlet, France.