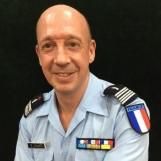 Colonel Bruno Ulliac
Head of International Affairs
,
French General Directorate for Civil Protection and Crisis Management
France
Colonel Bruno ULLIAC is Head of European and International relations at the General Directorate for Civil Protection and Crisis Management (DGSCGC).
From September 2013 to August 2017, he was posted in Singapore as Regional Adviser for Civil Protection for the ASEAN countries. He provided technical assistance and cooperation activities, such as training or workshops for the 10 ASEAN countries.
From March 2010 to August 2013, Colonel ULLIAC joined the French Ministry of Foreign Affairs (MFA), as International Expert for Civil Protection and Fire and Rescue services.
Prior to working at MFA, Colonel Bruno ULLIAC held various command and staff positions in Fire and Rescue services, notably Director of Fire and Rescue services at SDIS 15, Regional Assistant Fire Chief and District Fire Chief at SDIS 29 and SDIS 28, for 10 years. Colonel ULLIAC also served as Fire Chief, Fire Officer and Firefighter at SDIS 78 for a period of 19 years.
Throughout his career, Colonel ULLIAC's responsibilities have included coordination and organization development for Fire and Rescue services, analysis and cooperation for civil protection programs and operational response as Incident Commander on various emergency situations (floods, urban fires, industrial fires, forest fires, ship fires, hurricanes, storms, chemical hazards, major road accidents, pandemic hazard…). Besides being an international expert for disaster and crisis management, he is also an UNDAC and EU expert and he has been deployed for forest fires in Indonesia (2016) and (2015), earthquake in Nepal (2015), cyclone in Vanuatu (2015), typhoon in Philippines (2013) and (2014), floods in Comoros Islands (2012), assessment in Nigeria (2012), earthquake in Haiti (2010) and floods in Togo (2010).
Colonel Bruno ULLIAC is a graduate of the French Academy for Fire, Rescue and Civil Protection Officers. He holds a Master Degree in Management of Strategic Information from the Institute of Political Studies of Aix en Provence. He holds also a Master degree in Disaster Risks and Crisis Management from University of Mulhouse.