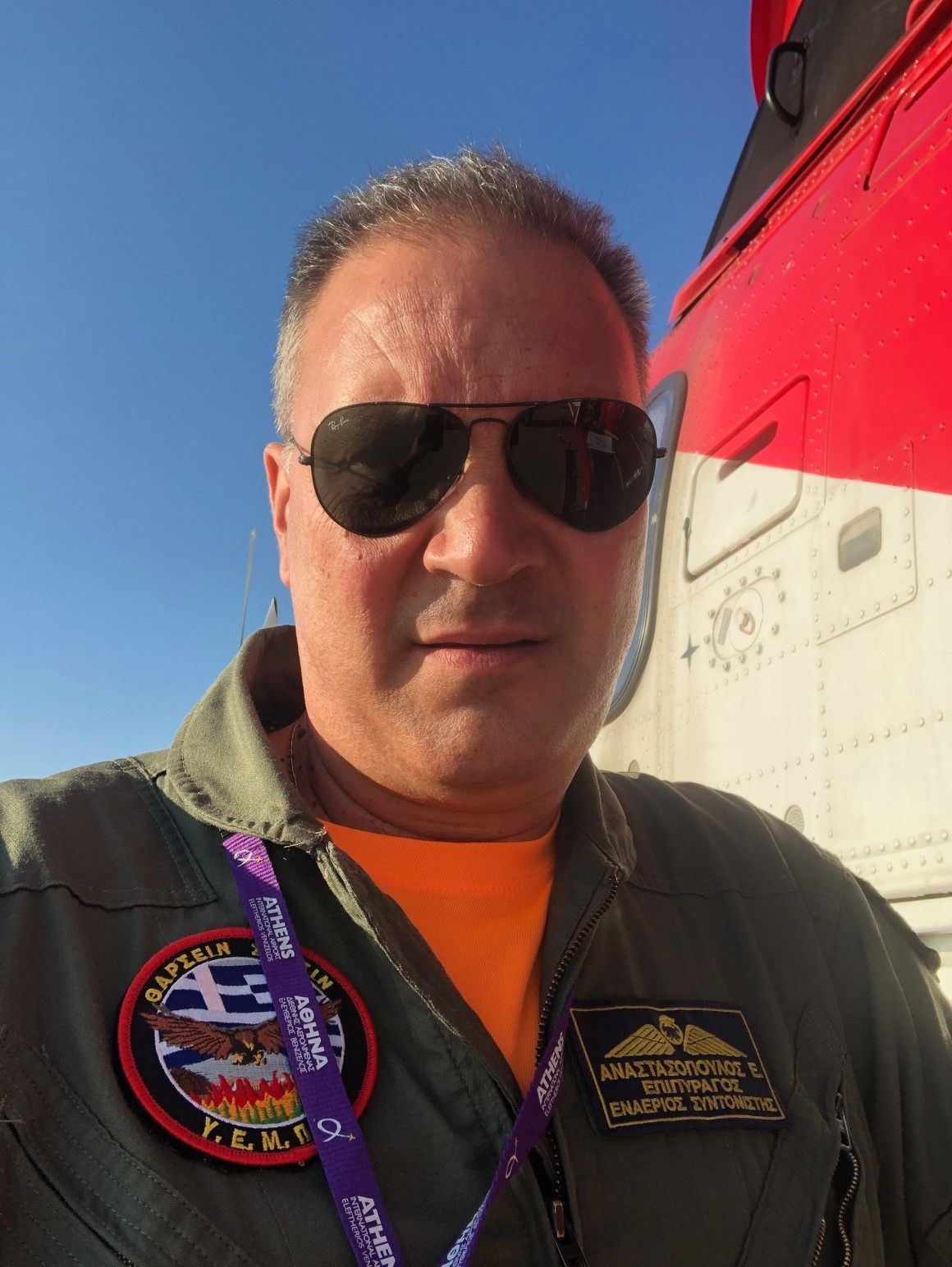 Efstratios Anastasopoulos
Air Coordinator (Air Tactical Group Supervisor)
,
Hellenic Fire Brigade Helicopter Squadron
Efstratios Anastasopoulos (Stratos, nickname) was born in Athens (1971), and completed his secondary and tertiary education in the same city.
He graduated from the Technological Educational Institute of Messolongi (Department of Forestry) in 1994, completing his studies in Forestry, while in 1999 he was admitted to the Fire Brigade as a graduate Forester. He studied at the Hellenic Fire Academy "School of Firefighters" in the Thessaloniki branch and then in 2000 he was admitted to the School of Officers, from which he graduated in 2003 as a Fire Officer "Fire Second Lieutenant".
He has studied at the School of Postgraduate Education and Training of the Hellenic Fire Brigade and graduated from the "School of Instructors" with the corresponding specialization while he is also a graduate of the "School of Emergency Political Planning" of the Hellenic Police.
He has been trained abroad (Poland) at the European Virtual Academy (EVA) as a trainer and specifically as a trainer for natural disasters.
He trained in the United States of America in 2009, specializing in the coordination of air resources in forest fires (A.T.G.S. - Air Tactical Group Supervisor).
He has been an instructor and teacher at the "School of Firefighters" and the "School of Chief Firefighters" and at the same time has been appointed by the Fire Brigade Headquarters in a variety of special trainings, as an instructor, and has participated in various interdisciplinary natural disaster exercises.
In 2015 he specialized in the use of the rescue hoist, as a Hoist Operator after graduating from a relevant school of the Hellenic Air Force, while due to his high score, he was trained as a Trainer - Assessor Hoist Operator.
From 2013 until today he serves in the Helicopter Squadron of the Hellenic Fire Brigade as the Aerial Coordinator of Air Media (ESM), due to his specialized knowledge in the above aircraft.